Chinook City Roller Derby (CCRD) is a Calgary non-profit association dedicated to learning, playing, and promoting co-ed roller derby in a skater owned and operated team atmosphere.
Roller Derby is a sport based on the principles of community, sportsmanship, and competition driven by volunteerism; all aspects of league formation and operation are organized by team members for team members on a purely volunteer basis.
Since our formation in early 2011, CCRD has grown to approximately 50 members. League members are deeply committed to both our sport and our community. We actively promote diversity and inclusiveness, participating in events throughout Calgary including the Bow River Flow, Calgary Comic & Entertainment Expo, 2012 Men's Expo, Calgary Stampede Parade and Calgary Pride Parade.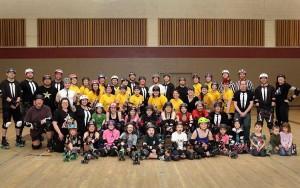 For more information about Chinook City Roller Derby, please visit our website at http://www.chinookcity.ca.